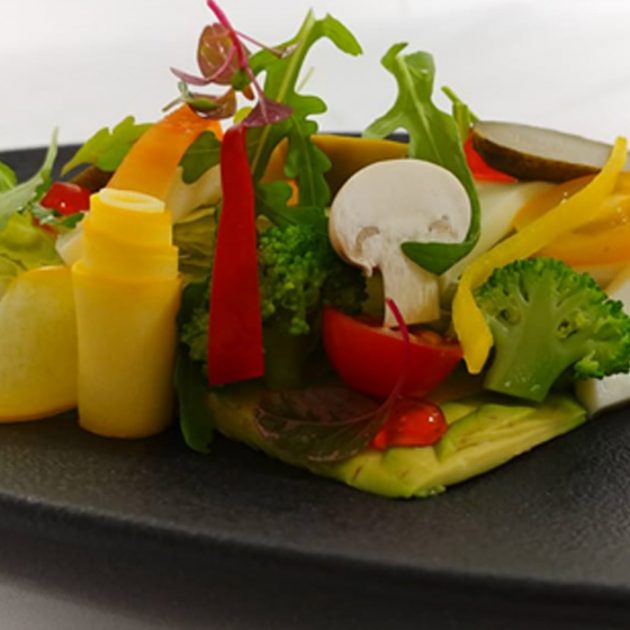 Ingredients
Dressing:
1 Cup Olive Oil
¼ Cup Lime Juice
¼ Cup White Vine Vinegar
¼ Cup Orange Juice
1 Clove Garlic, Minced
¼ Teaspoon Salt
1 Tablespoon Maple Syrup
Salad:
1 Romaine Hearts, Washed And Dried
1 Large Avocado
1 No Bocconcini Cheese
30 Gms Green Zucchini
30 Gms  Yellow Zucchini
30 Gms Broccoli
30 Gms Mushrooms
20 Gms Arugula Leaves
4-5 Asparagus Sticks
50 Gms 1 Cup Halved Grape Or Cherry Tomatoes
1 Kosher Salt And Black Pepper To Taste
Instructions
First, Make The Dressing. In A Small Bowl Or Jar, Whisk Together The Olive Oil, Lime Juice, White Vine Vinegar, Orange Juice, Garlic, Salt, Maple Syrup
Cut The Vegetables And Par Boil Them., drain and keep aside.
In A Large Bowl, Combine All The Ingredients.
Drizzle Salad With Dressing And Gently Stir Until Salad Is Coated With The Dressing. Season With Salt And Pepper, To Taste.
Arrange The Salad In A Bowl Or Plate With The Slices Of Bocconcini.
Garnish With Micro Greens Serve chilled.
Recipes
Similar Recipes